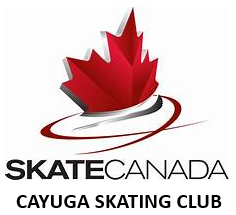 Cayuga Skating Club
'Learn to Skate Program'
Embrace the joy of Skating!
Skating instills a love of physical activity that contributes to the health and happiness of all who participate.
We are excited to have our local youth/adults who volunteer their time as Program Assistants on the ice to work with the coaches and skaters throughout the season. Our youth can receive volunteer hours for their high school Community Volunteer hours. If you know someone who would like to volunteer, have them register as a Program Assistant (Volunteer) on our site and they will be contacted by our coaches.
Taught by our Certified Skate Canada Coaches.
Welcome to our new website
Please take your time and read through how to register. You will be required to create a login before selecting any programs.

We have added have a few more payment options: You may still register and pay via e-transfer or cheque/credit, but we've now added the option to pay via credit or debit card online. If you are paying by e-transfer or cheque/cash we go online and confirm payment.
With our new site, parents and skaters will be able to see how they are progressing by logging in and seeing what they've have passed.

We are aiming to streamline ways for parents to register at their leisure and select their programming times.